When Stroke Strikes Home
By Vel Johnson, Vasaj Communications
The call came at 4:00 in the afternoon, Sunday, May 7, 2017. My mother was on the other end. "Hi Baby." "Hi Mom. How are you?" It was the usual way we'd begin most phone calls. But this time there was a momentary, almost menacing silence, as she replied, "I don't know. … I'm not feeling quite right."
Mom then asked if I'd come over and "bring my clothes" to spend the night. I knew SOMETHING had to be wrong at this point. "Mom, do you want me to call 911?" "No Baby … not yet," she said."
It was a full hour's drive to Mom's door. I told her I was going to call my brother, who lived just minutes away from her. She said, "Okay." My brother didn't answer, as he was at work. I sent a quick text message, "Eric, call me ASAP" and then threw a couple of things in a garment bag to go "spend the night" with Mom.
While heading out the door, I called Mom back. Sounding a bit more distressed this time, "The paramedics are on their way!" she said. My heart plummeted. "Okay, Mom! I'll stay with you on the phone until they get there."
Flying down the expressway like a bat out of Hell, thoughts racing, and tears streaming down my face … "Everything's going to be okay, Mom! Everything's going to be okay!" She was alone, afraid, and experiencing a tingling sensation that made her immobile. I couldn't get there fast enough.
Stroke does not discriminate. It can happen to anyone, at any time, and at any age.
When the paramedics arrived, paralysis had already begun to grip the left side of Mom's body like a tight glove. She was unable to get to the door. "I'm in here," I could hear her yell softly through the phone, "I'm in here." Then there were the voices of her rescue team … "Thank God they were able to get to her in time!"
The subsequent days were scary ones for my brother and me. Seeing our once vibrant and independent mother now require assistance with everything from bathing and dressing to many of the things we often take for granted, was not easy.
According to the National Stroke Association, there are nearly 7 million stroke survivors in the U.S.
It's said that the greatest battle with stroke survival is the will to fight. During the following weeks, Mom's stay at a rehabilitation facility included a regime of strong faith and prayer, coupled with comprehensive occupational, physical, and speech therapy.
A stroke occurs when blood flow to a part of the brain stops. A stroke is sometimes called a brain attack. There are two main types of stroke: Ischemic, due to lack of blood flow or a blocked artery; and hemorrhagic, due to leaking or bursting of a blood vessel. About 85% of strokes are ischemic.
Mom's stroke was ischemic.
Hope After Stroke
When Mom was released for home, Eric and I had to quickly learn the role of caregiver, readjusting our lives to make sure she had everything she needed to properly mend.
"My mother's stroke was a wake-up call for me to be more aware of my health and life in general. To watch her go through it and bounce back with the help of therapy and motivation, with my sister and me by her side, impacted me greatly. It reminded me that with any pitfalls in life we must have a positive mindset and attitude. With a strong will, drive, and determination, mixed with prayer and faith, and we can overcome anything. My mom's situation serves as a perfect reminder for me to believe strongly in that!" – Eric Johnson (proud son of a stroke survivor)
Through continued homecare and outpatient therapy, and tons of love and affection, Mom has been recovering well.
Stroke is the fifth leading cause of death in America and a leading cause of adult disability. Sadly, not enough people know how to recognize when stroke is happening. Education is key.
If I could help prevent another person from experiencing the attack my mother endured one year ago, I would. I recently learned that 80% of strokes can be prevented. I may not be able to bring about change. But I am committed to a renewed sentiment and lifestyle of healthy living and arming myself and others with information about stroke prevention and saving the lives of our loved ones.
National Stroke Awareness Month
As May is National Stroke Awareness Month, organizations across the country are galvanizing to fight against this terrible disease. My goal is to help raise awareness about stroke warning signs and symptoms, risk factors, preventative measures, and what we all can do when someone is having a stroke.
BEYOND WELLNESS
At Vasaj Communications, I've created BEYOND WELLNESS, a free event and platform to honor and celebrate stroke survivors, their families, and caretakers in a fun, relaxed, interactive atmosphere. Lunch will be provided for all who register, and presenters will provide resources and practical step-by-step tools to empower stroke survivors and their circle of care with support needed to thrive again. Experts will be available to answer questions about rehabilitation, technology, and improving your quality of life as a stroke survivor. Warning signs and risk factors of caregiving stress will be identified, with tips and resources provided for staying emotionally and physically well.
I'm honored to be able to present a celebrity presenter as my keynote speaker, known as "America's Stroke Coach," Valerie Greene. A captivating speaker with a great sense of humor, Valerie's message uplifts, inspires and motivates. With passion and insight, she touches hearts and encourages people in all walks of life to keep moving forward. I encourage you to bring a friend and a loved one with you to BEYOND WELLNESS and come hear Valerie's message: Stronger Than Stroke. She will leave you on the edge of your seat as she describes how she was able to rebound from a massive stroke at age 31 and turn it into a gift for changing the world.
The Event is FREE
The event is free. However, we are looking for partners to help offset programming costs. If you own or work with a health or rehabilitative care organization, or serve the senior community in a special way, consider becoming an event sponsor or vendor and email through the website, or directly to me at vel@vasajcommunications.com, for additional information. Registration and continental breakfast will begin at 9:30 a.m. and programming will commence at 10:00 a.m.
Registration is required to attend the event. To learn more, please click below: https://vasajcommunications.lpages.co/beyondwellness/
If you're in another city or unable to join us, but would like to help assure our event's success, please consider the donation experience by clicking below: https://vasajcommunications.lpages.co/beyond-wellness-donation/
I will never take stroke for granted. – Vel Johnson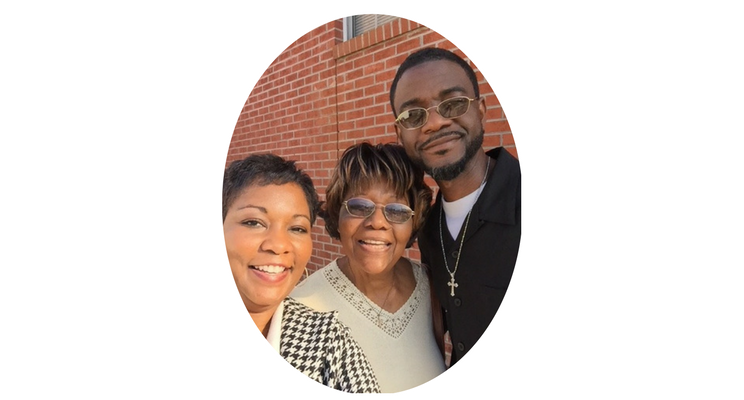 This is a photo of my mother, brother, and me. We hope you can celebrate life with us Friday, May 25, 2018, at BEYOND WELLNESS.
Please share this with someone you know and love.
Stay well,